Hello Dear Friends and Happy New New Year!
It's so hard to believe we have entered a new decade in this new millenium!! Where has the time gone???
Many of you may know that Danushca and I have taken a step of faith and started our own Private Practice and it has been quite the undertaking to say the least! It has been filled with many highs, a few lows and some wonderful life lessons that have brought tremendous growth! 
As we move into this new year and new decade of life we are placing special emphasis on living a life of intention, clarity and focus and will be working on bringing new goals to fruition.
We would like to invite you to join us on this journey in creating your own vision board as you pursue your dreams this year. What goals have you set out to accomplish? What dreams have you placed on the back burner that you are finally ready to pursue? It's time to bring those goals to life! The 2020 Vison Board workshop will provide a strategic roadmap to help keep you on course so your 2020 goals will be manifested!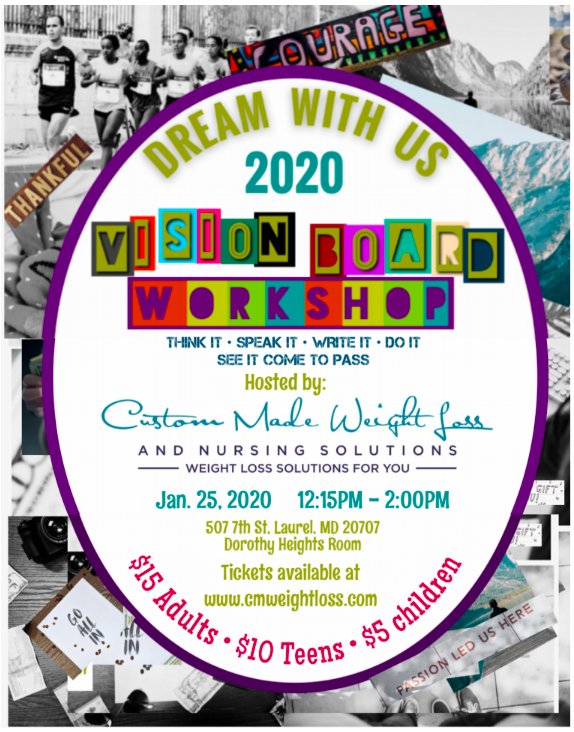 The workshop is a family affair so feel free to bring the kids along. They too can set their own goals and create their own vision boards for the year. 
We are excited for what 2020 has in store for us and hope to see you there!
Registration for the worskhop is available at:
https://custom-made-weight-loss-and-nursing-solutions.myshopify.com/products/2020-vision-board-workshop
*Registration covers cost of your vision board material, food, fun and fellowship!