Join the 20 Pounds in 12 Weeks Challenge
Sundays 5 - 6:30pm EST Starting May 31st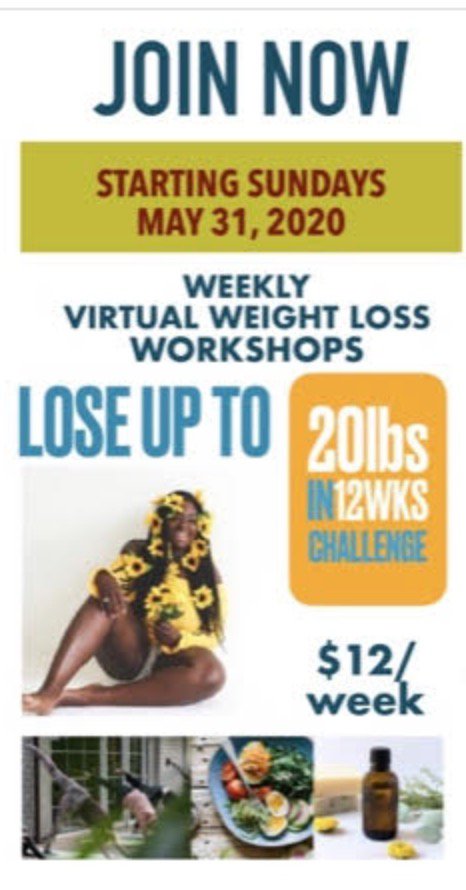 FOR JUST $12 PER WEEK, BE A PART OF A COMPREHENSIVE 12 WEEK WEIGHT LOSS SERIES THAT FACILITATES LONG-TERM WEIGHT LOSS
YOUR 12 WEEK 20 LBS CHALLENGE SERIES INCLUDES:
HEALTH AND WELLNESS EXPERTS HOSTING VIRTUAL "HOUR OF EMPOWERMENT" WEEKLY MEETINGS
TOPICS SUCH AS:
WHY IT'S SO HARD TO LOSE AND KEEP THE WEIGHT OFF?
THE BENEFITS OF A JUICE CLEANSE
HOW TO MEAL-PREP?
COOK-ALONG WITH OUR CHEFS IN OUR LIVE COOKING DEMO SESSIONS
EXERCISE, NUTRITION, DIABETES, HIGH CHOLESTEROL, HEART DISEASE, INFLAMMATORY CONDITIONS, PCOS, ARTHRITIS, HYPOTHYROIDISM, AND MANY MORE!
THE WORKSHOP IS DESIGNED TO PROVIDE NECESSARY TOOLS TO:
FORM STRUCTURED HEALTH ROUTINE
DEVELOP CUSTOMIZED WEEKLY AND LONG TERM GOALS
DEVELOP HEALTHY EATING HABITS FOR A LIFETIME
WE PROVIDE:
NUTRITIONAL SUPPORT & GUIDANCE
WEEKLY WEIGH-INS
WEEKLY COACHING & ACCOUNTABILITY
ACCESS TO OUR PRIVATE SOCIAL MEDIA GROUP PAGE
ACCESS TO A CERTIFIED GROUP FITNESS INSTRUCTOR
GOAL
EMPOWER, MOTIVATE AND UPLIFT!
LOSE UPTO 20 LBS BY WEEK 12!
SIMPLY, TO BE A HEALTHIER YOU!
Lets face it, the past few months have been hard on us all. One of the major side effects may even be putting on a few extra pounds but don't let that get you down! It's time for a recharge as we get ready for the summer.
Lose up to 20 pounds in 12 weeks in our 100% Online Live 12-Week Group Weight Loss Series!!!
When you join our weight loss challenge, you are automatically registered into our B12/Lipo B12 Raffle. Summer Is Coming! Let's Get Beach Body Ready. Join our Challenge Today!!
Introducing Our DIY B12/LIPO B KITS!!!